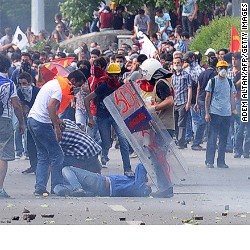 Protesters seething over their treatment by security forces hurled rocks at riot police in Ankara's Kizilay Square on Monday, the latest in a string of violent clashes that have punctuated massive anti-government demonstrations spreading across Turkey -- leaving thousands injured and at least one dead in the past two days alone.
The protests united demonstrators from across the political spectrum against a common foe: security forces who unleashed tear gas and water cannons on them in response to what had been largely peaceful protests against the government of Prime Minister Recep Tayyip Erdogan.
"There has been unprecedented violence against protesters and social protest," demonstrator Neslihan Ozgunes said Monday.
http://edition.cnn.com/2013/06/03/world/europe/turkey-protests/index.html?hpt=hp_t1