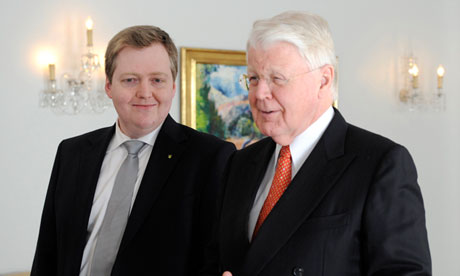 The leader of a centre-right party has been chosen as Iceland's new prime minister and promptly announced a halt to talks about joining the EU.
Sigmundur Davíð Gunnlaugsson said on Wednesday: "The government intends to halt negotiations between Iceland and the European Union. We will not hold further negotiations with the European Union without prior referendum."
Iceland has engaged in on-and-off talks with the EU for several years. Gunnlaugsson's Progressive party has been opposed, in part because it fears membership would mean giving up control of Iceland's fishing stocks.
The new government will also include Bjarni Benediktsson, head of the conservative Independent party, who will serve as minister of finance.
http://www.guardian.co.uk/world/2013/may/22/iceland-eu