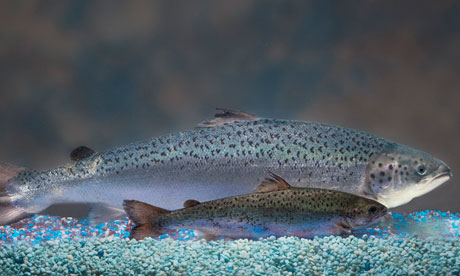 Two same-age salmon, a GM salmon, rear, and a non-GM salmon, foreground.
The offspring of genetically modified salmon and wild brown trout are even faster growing and more competitive than either of their parents, a new study has revealed, increasing fears that GM animals escaping into the wild could harm natural populations.
The aggressive hybrids suppressed the growth of GM salmon by 82% and wild salmon by 54% when all competed for food in a simulated stream.
"To the best of our knowledge, this is the first demonstration of environmental impacts of hybridisation between a GM animal and a closely related species," wrote the scientists from Memorial University of Newfoundland. "These findings suggest that complex competitive interactions associated with transgenesis and hybridisation could have substantial ecological consequences for wild Atlantic salmon should they ever come into contact [with GM salmon] in nature."
http://www.guardian.co.uk/environment/2013/may/29/gm-hybrid-fish-threat-natural-populations