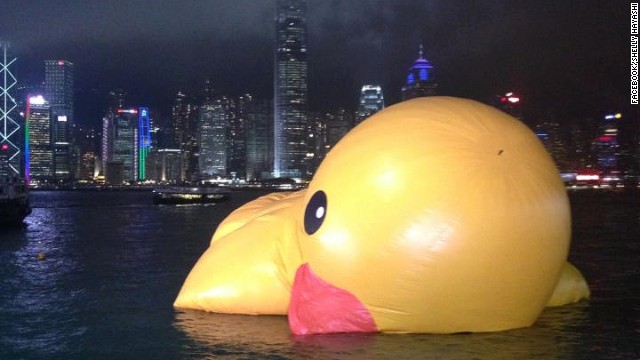 Hong Kong's favorite new resident, a giant inflatable duck, took a turn for the worse on Wednesday, looking less like an oversized lovable plaything and more like an unappetizing fried egg on the water.
The 16.5-meter (54 feet) inflatable sculpture mysteriously lost its mojo overnight, deflated and bobbed lifelessly in Victoria Harbour.
Organizers called an urgent duck crisis meeting early Wednesday and didn't respond to questions about the misfortunes of the duck or whether the deflation was part of regular maintenance, as reported in some local media.
http://edition.cnn.com/2013/05/14/travel/hong-kong-duck/index.html?hpt=hp_c6