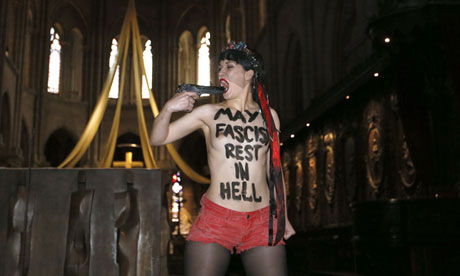 A member of the militant feminist group Femen, known for its provocative topless protests, on Wednesday staged a mock suicide in Notre Dame cathedral in the French capital, less than 24 hours after a far-right historian killed himself there in front of visitors and church-goers.
Posing with a pistol in her mouth the woman, who had "May fascism rest in hell" written in black letters across her naked torso, was detained by security guards. She was then arrested by police outside the cathedral and taken to the nearby police station.
Femen claimed responsibility for the protest on its Facebook page writing: "Femen appealed for the death of facism at the exact same place extreme-right activist Dominique Venner committed suicide yesterday afternoon. Our activist was arrested by the police."
http://www.guardian.co.uk/world/2013/may/22/femen-mock-suicide-notre-dame