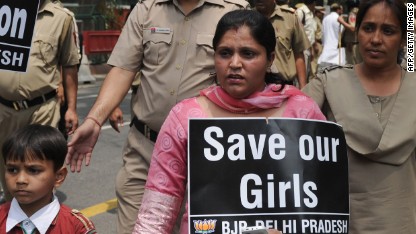 Four months after a vicious gang rape left a 23-year-old physiotherapy student dead and triggered a national outcry over the treatment of women, more protests ignited in New Delhi after another brutal rape -- this time the victim was a five-year-old girl.
Two men have been arrested in the case. Authorities say the girl was abducted, locked in a house and raped repeatedly. She was found semiconscious three days later and doctors removed foreign objects from her genitals, including candle pieces and a small bottle.
"In a capital city, we cannot provide protection to a young girl," said Bhagyashri Dengle, the executive director of Plan India, an organization that works to help underprivileged children.
The girl's family said that police officers had tried to bribe them to keep quiet about the case.
http://edition.cnn.com/2013/04/22/world/asia/india-rape-sexism/index.html?hpt=hp_c1