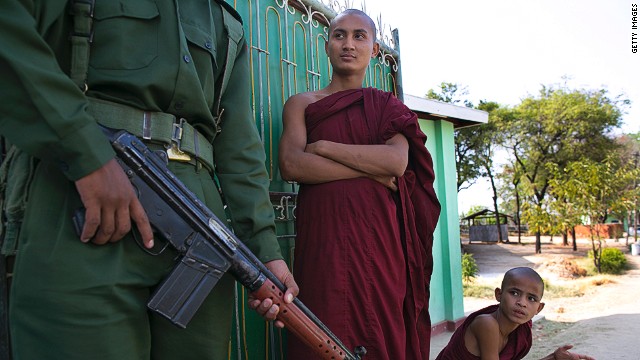 For Thailand's Queen Sirikit, the 2007 attack on a minibus in southern Thailand's Yala province -- in which suspected Muslim militants shot eight Buddhists through the head in broad daylight -- was simply further proof of what she'd been saying for more than three years.
"We have to help people there to survive. If they need to be trained, train them. If they need to be armed, arm them," she was quoted as saying by one of her military staff, according to media reports.
Meanwhile, Thailand was convulsed by demonstrations condemning the attack.
Her response was to boost her support for the Or Ror Bor or Village Protection Force, the militia the Royal Aide-de-Camp department, under Queen Sirikit's direction, established in 2004.
http://edition.cnn.com/2013/04/22/world/asia/buddhism-violence/index.html?hpt=hp_c6