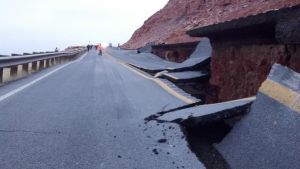 Page is cut off from points directly south by a deep, 150-foot-long crack in Highway 89 that occurred this morning about 25 miles south of Page, and it's unknown when the road might be repaired.
The road appears to have split in a few places, and is divided by a fissure greater than 5 feet deep in one area.
Three accidents resulted from drivers hitting the large divide, with the most serious involving a person whose airbag deployed. She was transported to Page with minor injuries, according to state law enforcement officials.
http://azdailysun.com/news/local/road-collapse-closes-highway-south-of-page/article_bbcc2858-7ba6-11e2-82cd-0019bb2963f4.html