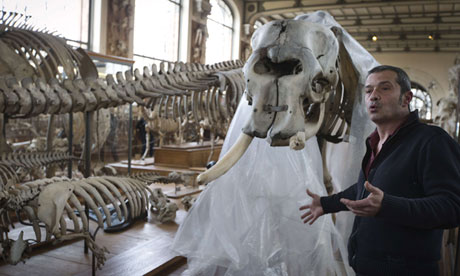 Visitors to Paris's popular Museum of Natural History this weekend found a key exhibit under wraps after a man broke in and chainsawed a tusk from an elephant which once belonged to the Sun King, Louis XIV.
Police were called to the museum in the early hours of Saturday morning where they found a chainsaw still whirring after a man in his 20s escaped over a wall with a tusk over his shoulder. A police official said a neighbour of the museum on Paris's Left Bank alerted authorities after hearing a strange sawing sound at around 3am. The museum alarm system was activated and startled the intruder into fleeing just minutes after beginning his chainsaw attack. He was treated in hospital for a fractured ankle from a fall while escaping and was being questioned by investigators.
The African elephant, whose left tusk was sawn off, was a gift from a Portuguese king to Louis XIV in 1668. It lived for 13 years in the royal menagerie in the grounds of the opulent palace of Versailles where it became the star attraction. When it died, its skeleton was transferred to the natural history collection in Paris, one of the biggest in the world alongside London's Natural History Museum.
http://www.guardian.co.uk/world/2013/mar/31/chainsaw-man-stealing-elephant-tusk-paris-museum