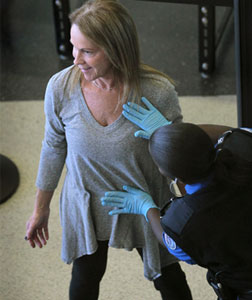 The Transportation Security Administration will be conducting grope downs and bag searches at three different locations in Charlotte this week at the Democratic National Convention, illustrating the fact that the TSA has expanded well beyond its remit of transportation and into public venues.
The DNC will be held at three separate sites this week, all of which will have security checkpoints staffed by TSA officers.
55 TSA screeners "Will help the Secret Service with screening at Time Warner Cable Arena, the Convention Center and Bank of America stadium," reports WSOCTV.com.
The first two days of the DNC will take place at the Time Warner Cable Arena, with the final day taking place at the Bank of America Stadium where Obama will deliver his acceptance speech. Events will concurrently be staged at the Charlotte Convention Center.
Attendees will be forced to undergo invasive pat downs and have their personal items scanned if they wish to enter any of these venues.
The agency is also increasing its footprint of TSA agents at the Charlotte Douglas Airport, adding a whopping 161 extra TSA screeners including 20 "behavior detection" officers who will watch for suspicious activity and conduct "chat downs" with travelers. More than 700 TSA officers in the airport alone will be present for the duration of the convention.
Read More