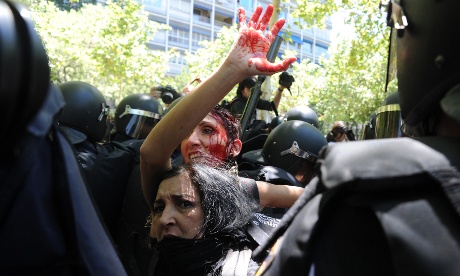 (Reuters) - Spain's Prime Minister Mariano Rajoy on Wednesday said he was ready to seek a new rescue package for his troubled country but only if its debt financing costs remain too high for too long.
Investors have been jittery that Spain's apparent reluctance to seek a bailout - a condition for European Central Bank action to cut the country's borrowing costs - could propel the euro zone into even deeper trouble.
Rajoy had said previously that a reduction in Spanish bond yields after the announcement of a bold bond-buying plan by the ECB could allow Spain to put off seeking further support.
"I can assure you 100 percent that I would ask for this bailout," he told the Wall Street Journal.
He, however, added that it was too soon to say if Spain would need a European Central Bank and euro zone rescue funds bond-buying programme and that he still needed to check that strings attached to it are "reasonable".
Rajoy spoke as protesters clashed with police in Spain's capital after thousands formed a human chain around the parliament and demonstrated against a new round of austerity measures for the 2013 budget to be announced on Thursday.
Madrid, the latest epicentre of the euro zone debt crisis, needs to cut its budget gap by more than 60 billion euros (48 billion pounds) in the next two years, a difficult task in a contracting economy.
Read More