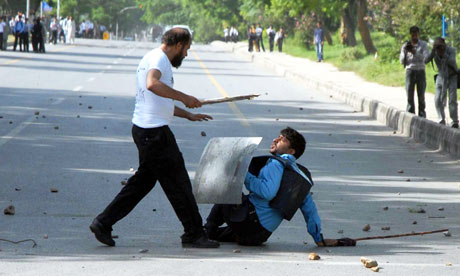 Security forces in Islamic countries are bracing for a day of anti-western fury, with international protests planned against a YouTube video ridiculing Muslims and French cartoons mocking the prophet Muhammad.
France has closed embassies and schools in about 20 countries around the world after the satirical magazine Charlie Hebdo published a series of cartoons depicting the prophet, including two showing him naked.
Pakistan has drafted in troops to protect foreign embassies and blocked mobile phone signals in about 15 cities after thousands of violent protesters clashed with police on Thursday. The government has declared Friday "a day of love for the prophet", a move welcomed by the Taliban and that risks substantially increasing the already high threat of violence on the traditional Islamic holy day.
The American embassy in Pakistan has been running television advertisements, one featuring the secretary of state, Hillary Clinton, emphasising that the US government had nothing to do with the film.
The US and French embassies were closed on Friday in Jakarta, the capital of Indonesia, and diplomatic missions in the Afghan capital, Kabul, were on lockdown.
The cartoons in the French satirical weekly have provoked relatively little street anger, although about 100 Iranians demonstrated outside the French embassy in Tehran.
Read More