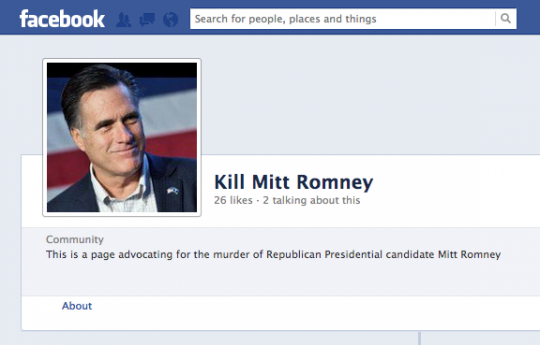 A Facebook page entitled "Kill Mitt Romney" garnered close to 30 likes and remained online for 17 days before Facebook removed the page Monday.
The Secret Service was aware of the the page and is taking "appropriate investigative steps," according to FoxNews.com.
A Philadelphia blogger that created pages in support of two alleged cop killers created the page on Aug. 10, 2012, according to Fox.
Facebook's community standards forbid users from "credibly (threatening) harm to others, or (organizing) acts of real-world violence":
Safety is Facebook's top priority. You may not credibly threaten to harm others, or organize acts of real-world violence. We remove content and may escalate to law enforcement when we perceive a genuine risk of physical harm, or a direct threat to public safety. We also prohibit promoting, planning or celebrating any of your actions if they have, or could, result in financial harm to others, including theft and vandalism.
Page content is subject to the community standards, according to Facebook, which reserves "the right to reject or remove Pages for any reason."
Politico reporter Byron Tau brought attention to the page Sunday, writing on Twitter, "There's currently a 'Kill Mitt Romney' Facebook page, which I'm sure (I hope) will be taken down."
more
Thoughts: Yes, 26 idiots did "like it". It's amazing that when someone looks in Obama's direction they're arrested and the key is thrown away. It's alright, however, to let a page openly advocating Romney's murder is allowed to stay up for 17 days. Not that one man is any better than the other, but it's another reason to avoid and shut down Facebook and write off a good many people's intelligence.