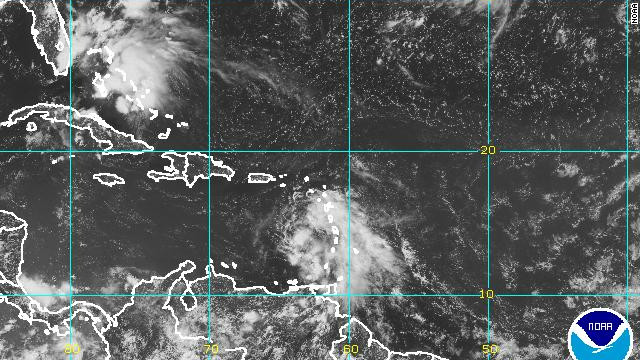 (CNN) -- Tropical Storm Ernesto churned across the Caribbean Sea on Saturday, regaining some strength even as forecasters expect it to grow more powerful and emerge as a Category 1 hurricane in the next few days, the National Hurricane Center said.
That means that by the time it likely passes south of Jamaica on Sunday evening, Ernesto could pack sustained winds in excess of 74 mph. As is, the Miami-based weather center reported in its 8 p.m. advisory that the storm had regular winds of 60 mph and even more potent gusts.
Ernesto had weakened somewhat earlier Saturday, but leveled off through the middle of the day and then got even stronger.
By Saturday night, tropical-storm-force winds, at 39 mph or stronger, could be felt up to 140 miles for the storm's center about 260 miles south-southwest of Santo Domingo, Dominican Republic, and 435 miles east-southeast of Kingston, Jamaica.
The Jamaican government has issued a tropical storm warning for the Caribbean island, meaning such conditions are expected there some time over the next 36 hours.
Read More