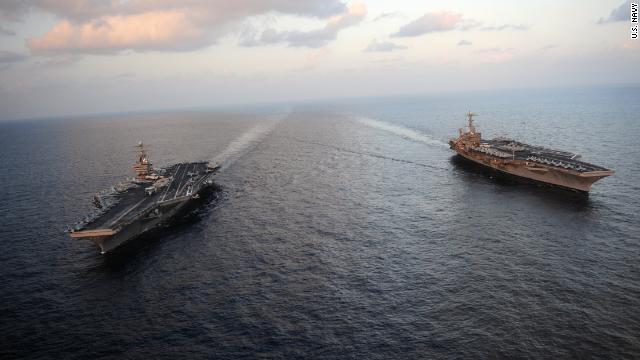 The U.S. is deciding whether to keep two aircraft carriers in the waters around Iran through the end of the year in a move that risks inflaming tensions with the regime, according to U.S. officials.
The decision entails extending the mandate to maintain an extra carrier in the region by three months, according to U.S. officials.
A 2010 directive by then Secretary of Defense Robert Gates added an additional carrier to the Persian Gulf region where the U.S. typically has kept only one carrier while not in actual full combat operations.
The directive is set to expire in September of this year, but the officials said the White House, Defense Secretary Leon E. Panetta and top Navy officials are mulling over whether to extend the presence at a time when Iran continues its saber rattling with threats to close the main oil tanker route out of the Arabian Gulf at the Strait of Hormuz as well as its continued insistence to pursue a nuclear program.
The officials, who could not be named because they were not authorized to speak on the record about the discussions, said one of the hang-ups in the decision-making process is the justification for keeping an extra carrier in that region.
The 2010 Gates order to put the additional aircraft carrier presence in the Arabian Sea around Iran was to support the Afghanistan troop surge and troop draw-down in Iraq.
Read More