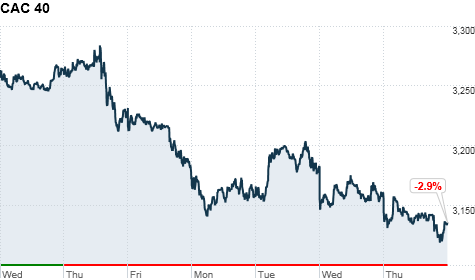 NEW YORK (CNNMoney) -- The Spanish government's abrupt plan to slash more spending did not go over well with overseas investors on Thursday.
London's FTSE (UKX) was down 1% at the close, the DAX (DAX) in Frankfurt was lower by 0.5% and the CAC 40 (CAC40) in Paris fell 0.7%. Spain's IBEX dropped 2.6%.
Spanish Prime Minister Mariano Rajoy announced a new round of austerity measures Wednesday in a speech to parliament, vowing to cut the country's costs by €65 billion, or about $80 billion, in less than three years. He pledged to do this by raising taxes and reducing government spending, requiring further austerity measures.
Read More