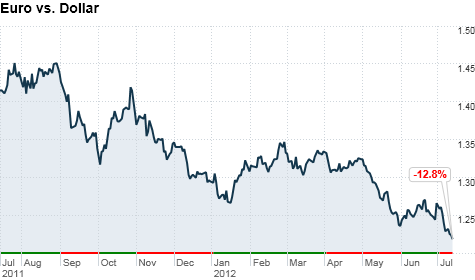 NEW YORK (CNNMoney) -- The euro continued to weaken against the dollar Thursday, falling to another two-year low as investor fear over European stability intensified.
The euro was trading at $1.21 against the U.S. dollar, hitting the level for the first time since June 2010. The European currency slid 1.1% against the Japanese yen.
Analysts say that investors are flocking to the U.S. currency as concern over eurozone bailouts and new austerity measures heats up.
"It is mostly a story of investors continuing to look for safety and yield in US Treasuries," said Societe Generale currency analyst Sebastien Galy.
Uncertainty was ignited by Spanish Prime Minister Mariano Rajoy's announcement of a new round of austerity measures Wednesday as his government struggles to meet deficit reduction targets mandated by the European Union. Rajoy vowed to cut the country's costs by €65 billion, or about $80 billion, in less than three years.
Read More