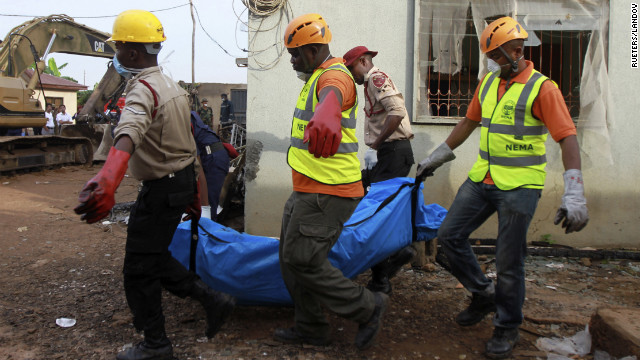 Lagos, Nigeria (CNN) -- Nigerian aviation authorities suspended Dana Air's operating license Tuesday as torrential rain hampered recovery efforts after a deadly weekend plane crash.
"As soon as we have concluded the recertification of the airline, if they are capable, then their license will be reinstated," said Sam Adurogboye, a spokesman for the Nigerian Civil Aviation Authority.
Authorities have recovered the flight data recorder and the cockpit voice recorder, which are expected to help investigators determine what caused Sunday's crash that authorities say killed at least 153 people aboard the plane and at least 10 people on the ground.
Rescuers have recovered 153 bodies, including those of a woman and the baby she was clutching. But a downpour and a building on the verge of collapse impeded recovery efforts Tuesday.
Rescuers said they hoped to resume work Wednesday morning.
Lagos residents tell of chaotic scene
Seven U.S. citizens were aboard the flight, State Department spokesman Mark Toner said Tuesday. Officials were working to notify relatives of the dead.
Read More