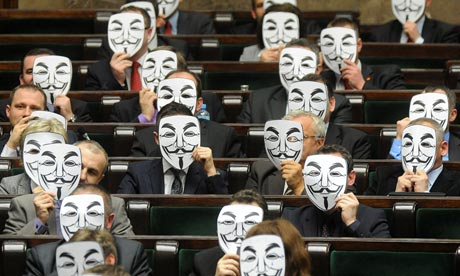 Acta faces defeat … Lawmakers from the leftist Palikot's Movement cover their faces with masks as they protest against Acta in Warsaw, Poland. Photograph: Alik Keplicz/AP
Vote may herald the first time the European Parliament has written off an international agreement since 2008
European lawmakers rejected the global Anti-Counterfeiting Trade Agreement (Acta) on Thursday, signalling that the European Parliament may soon use new-found rights to derail an international agreement for the first time.
"This vote is the penultimate nail in Acta's coffin," Jan Philipp Albrecht, a German Green politician in the legislature said, after the European Parliament's International Trade Committee (Inta) recommended 19-12 that the European Parliament reject the treaty in its upcoming vote on 4 July.
The decision was the fifth European committee in a row to recommend against Acta.
Read More