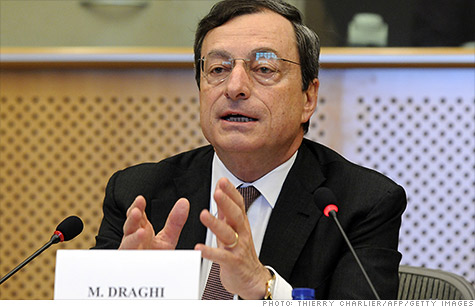 NEW YORK (CNNMoney) -- As the euro crisis moves toward a decisive moment, the European Central Bank is under renewed pressure to stabilize the troubled currency union.
"The euro area seems to be edging closer to its breaking point," said Jens Sondergaard, senior European economist at Nomura Securities, in a note to clients. "Markets are again calling on the ECB to deliver a substantial policy response that can pull the euro area back from the brink."
Investors are hoping ECB president Mario Draghi will signal that some sort of rescue effort is in the works, when the central bank holds its monthly meeting in Frankfurt Wednesday.
ECB officials will be meeting amid a deepening banking crisis in Spain and ahead of a pivotal election in Greece that could determine whether the nation remains in the eurozone.
Read More