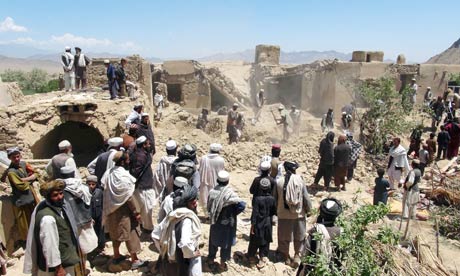 Thirty civilians killed by suicide bombers in market and air strike that wiped out village wedding party, say officials
On a day of deadly violence that underlined the vulnerability of Afghans, , more than 30 civilians were killed by Taliban suicide attackers and a Nato air strike on Wednesday.
Civilians are regular victims of the fighting that now affects most of Afghanistan, and last year a record number of innocent people were killed, according to UN data, but it is unusual for both parties in the conflict to exact such a toll within the span of a few hours.
In the southern city of Kandahar, a bomber struck in a market near the gates of a large military airbase. As crowds gathered at the site of the attack, a second man drove up on a motorbike and detonated another suicide vest. Together they killed 21 civilians and injured at least 50, the provincial police chief, Abdul Razzaq, said.
In Logar province, which lies south of Kabul but near the eastern border with Pakistan, a Nato air attack on a village home killed up to 18 civilians who had gathered to celebrate a wedding, local government and security officials said.
Read More