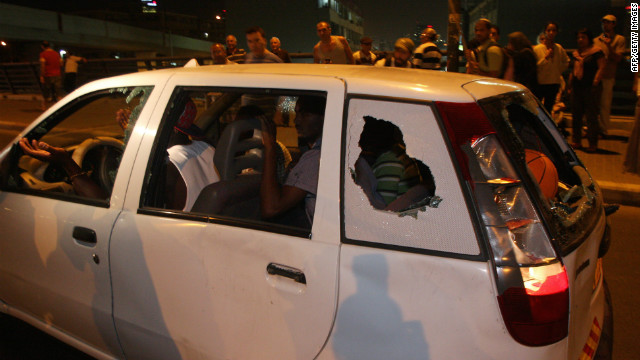 Jerusalem (CNN) -- A racially charged demonstration against the Israeli government's handling of immigration from Africa turned violent Wednesday night as protesters attacked foreign workers, shattered car windows and vandalized a shop owned by a Sudanese migrant.
Police spokesman Micky Rosenfeld said 17 men were arrested in the event and brought to a Tel Aviv court Thursday morning. They are charged with attacking residents and Israeli police and damaging property.
The demonstrators carried signs with the slogans "Infiltrators get out of our houses" and "Tel Aviv -- a refugee camp." They were accompanied by three members of the Knesset, Israel's parliament.
Miri Regev, a Knesset member from Prime Minister Benjamin Netanyahu's Likud party, referred to illegal immigrants as "a cancer in our society" and promised to do anything possible to send them back to their home countries.
Read More