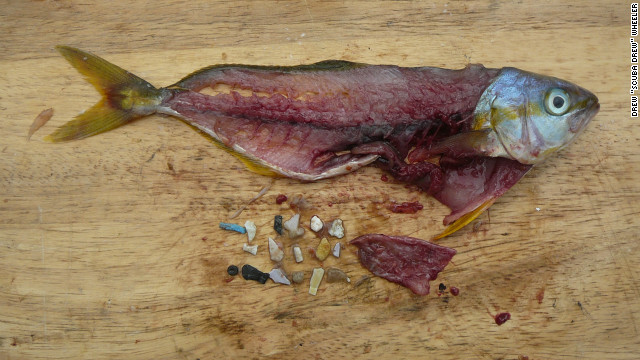 (CNN) -- A marine expedition of environmentalists has confirmed the bad news it feared -- the "Great Pacific Garbage Patch" extends even further than previously known.
Organized by two non-profit groups -- the Algalita Marine Research Foundation and the 5 Gyres Institute -- the expedition is sailing from the Marshall Islands to Japan through a "synthetic soup" of plastic in the North Pacific Ocean on a 72-feet yacht called the Sea Dragon, provided by Pangaea Exploration.
The area is part of one of the ocean's five tropical gyres -- regions where bodies of water converge, with currents delivering high concentrations of plastic debris. The Sea Dragon is visiting the previously unexplored western half of the North Pacific gyre -- situated below the 35th parallel, and home to a massive expanse of plastic particles known as the "Great Pacific Garbage Patch" -- to look for plastic pollution and study its effect on marine life.
Leading the expedition is Marcus Eriksen, a former U.S. marine and Ph.D student from University of Southern California.
Read More