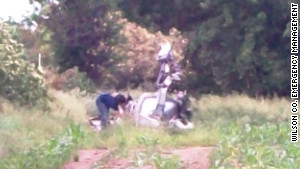 (CNN) -- A recent Oral Roberts University graduate was the only one of five people en route to a Christian youth conference to survive a plane crash in southeastern Kansas, officials said Saturday.
The twin-engine Cessna 401 went down Friday afternoon about nine miles west of Chanute, the Kansas Highway Patrol said on their website. The small aircraft landed in a field and skidded about 200 feet before hitting a treeline.
A spokesman for the National Transportation Safety Board on Saturday said the pilot had been in contact with air traffic controllers, but there was no distress call.
"There was an altitude change and that was the last transmission," said spokesman Peter Knudson.
The aircraft caught fire after the crash.
Read More