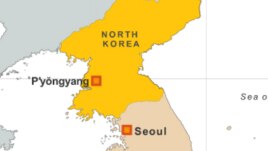 North Korea is warning that it will continue to develop its nuclear program in response to diplomatic pressure from the United States.
Pyongyang's Foreign Ministry said Tuesday that it will "bolster its nuclear deterrent" in the face of what it called Washington's "hostile policies." But it made no direct threat of a nuclear test that many fear could soon take place.
The statement carried by the North Korean Central News Agency came after the Group of Eight world leaders issued a declaration warning of more sanctions against North Korea if it continues to threaten the stability of the region.
North Korea received widespread condemnation following its failed rocket launch last month. Pyongyang said the launch was to place a weather satellite into orbit, but the United States and other countries argued it was a test of a long-range ballistic missile that could carry warheads.
Read More