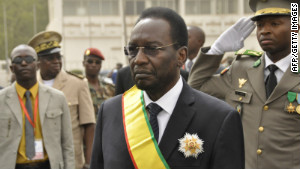 Bamako, Mali (CNN) -- Dioncounda Traore, Mali's interim president, was beaten and rushed to a hospital after hundreds of protesters demanding his resignation stormed the presidential palace Monday.
Traore was assaulted and hit over the head when protesters found him inside the palace. The president was later taken to the hospital where he was treated for a wound to his head, hospital staff said.
"There were three dead and some injured by gunshot when [Traore's] security shot at people," said Bakary Mariko, a spokesman for the National Committee for the Restoration of Democracy, a group of military officers who mounted a coup in March.
Read More