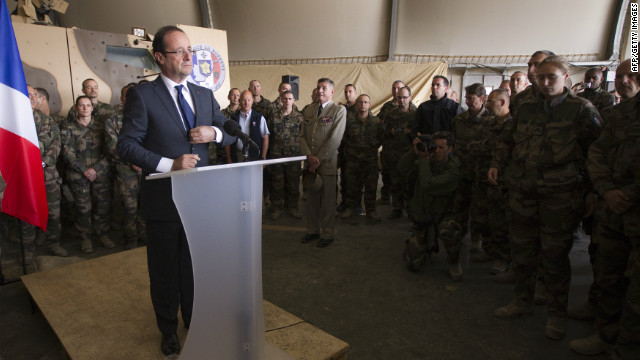 Kabul, Afghanistan (CNN) -- France's new president, François Hollande, reaffirmed Friday during a visit to Kabul that France will withdraw 2,000 troops from Afghanistan by the end of 2012.
He spoke after meeting with French troops stationed there and holding talks with the country's president, Hamid Karzai.
Giving a joint news conference with Karzai, Hollande said he had come to tell French troops that "their task has come to an end in Afghanistan."
But he also stressed France's ongoing cooperation with Afghanistan, saying he and Karzai had discussed details of their nations' strategic partnership agreement.
"After 10 years of European military engagement in Afghanistan, now Afghan security forces are taking the responsibility of their own security, and it is time for us to leave," Hollande said.
Read More