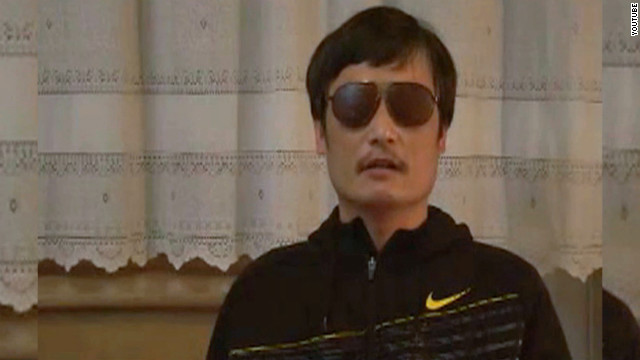 (CNN) -- When the blind Chinese dissident Chen Guangcheng staged his astonishing escape from house arrest, he sought American protection at the U.S. Embassy in Beijing. Six days later, when Chen left the embassy for a local hospital, it looked as if U.S. officials had found a solution that, as the State Department put it, "reflected his choices and our values."
One official at the U.S. Embassy said Chen was so grateful for America's help that he told Secretary of State Hillary Clinton on the phone, "I would like to kiss you."
But the picture is starting to change, with signs emerging that the Obama administration failed to effectively protect Chen.
Did the United States betray the Chinese human rights lawyer?
The United States said a deal with China would set Chen free and allow him to relocate within the country along with his family and attend a university. But Chen has told CNN that the U.S. government let him down. The United States insists the activist left the diplomatic compound willingly and wanted to remain in China. However, Chen said he fears for his life, his wife's safety and wants to leave the country. More troubling, he claims that U.S. officials, instead of extending their protection, pressured him to leave the safety of the embassy.
If this is true, it is a dark mark of shame for the United States. Until now, President Obama had a mixed record on human rights. This was an important test for an administration that has favored pragmatism over emotionally satisfying displays.
Source