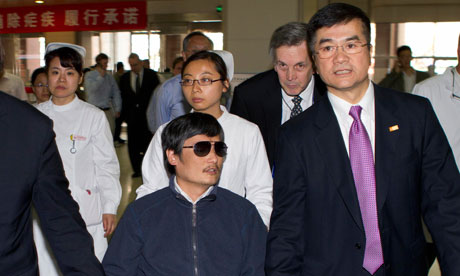 Chinese activist recovering after house arrest says he is concerned about 'lawlessness' in home province of Shandong
The blind Chinese activist Chen Guangcheng has said he fears his nephew may be beaten and tortured after being detained by police.
Although Chen was confident last week's high-level deal between China and the US would ensure his own wellbeing and freedom of movement, he told the Guardian he was concerned about the vulnerability of his relatives because of the "lawlessness" of his home province of Shandong.
The activist, who escaped from house arrest and initially fled to the US embassy last month, is now recuperating in a Beijing hospital.
But it has emerged that his nephew, Chen Kegui, is being investigated in connection with a bloody fight that broke out when local officials tried to enter the family home in Linyi, in Shandong province, after the escape.
The nephew previously said he stabbed one of the intruders in an act of self-defence. His lawyer, Liu Weiguo, who is being closely monitored by the police, said he was unable to talk freely about the case, which was still under investigation, but he feared the arrests of family members could hinder Chen's departure.
Read More