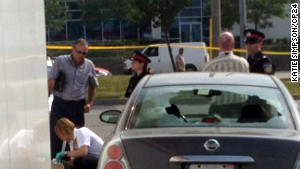 (CNN) -- Canadian authorities are investigating reports that debris fell Monday from a troubled airliner and caused damage to vehicles in southern Ontario.
The incident centers on Air Canada Flight 001, which took off from Toronto at 2:10 p.m. ET, destined for Tokyo's Narita Airport, with 318 passengers and 16 crew members aboard.
One of the Boeing 777 aircraft's engines shut down after takeoff, prompting the flight crew to follow "standard procedure" and return to Toronto Pearson International Airport, said Air Canada spokesman Peter Fitzpatrick.
The crew requested an emergency landing, which Fitzpatrick said was standard because it gives certain planes first priority, though he also noted the aircraft involved is designed to run on a single engine if necessary.
Read More