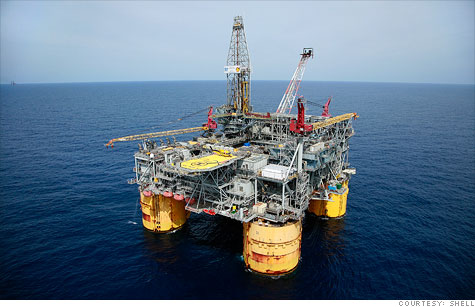 Royal Dutch Shell says a sheen of oil, 10 square miles in size, has been spotted in the Gulf of Mexico.
The company said that it hasn't determined the cause of the sheen, estimated in size to be the equivalent of six barrels of oil.
Shell issued a statement Thursday saying its operations in the Gulf are "normal with no sign of leaks" and that there are "no well control issues associated with our drilling operations in the area."
Late Wednesday, Shell (RDSA) said that it reported the sheen to the National Response Center. The U.S. Coast Guard said the sheen was discovered at 4:45 p.m. central time on Wednesday.
Shell said the sheen is one mile wide and ten miles long and is located in the middle of the Gulf of Mexico, between its Mars and Ursa drilling platforms.
The platforms are both located 130 miles southeast of New Orleans, according to Shell. The Coast Guard said the sheen is located 56 miles offshore from Venice, La.
The oil company also said there is "no current indication that the sheen originates from wells in either the Mars or Ursa projects."
more