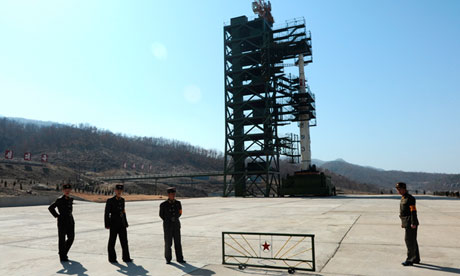 Pyongyang vows to go ahead with launch of what it says is a satellite, but US fears is a disguised long-range missile test.
North Korea has moved three stages of a long-range rocket into position for a controversial launch in defiance of international warnings against violating a ban on missile activity.
Foreign news agencies were allowed a firsthand look at preparations under way at the coastal Sohae satellite station in north-western North Korea.
North Korea announced plans last month to launch an observation satellite during mid-April celebrations of the 100th anniversary of the birth of its founder Kim Il Sung. The US, Japan, Britain and other nations have urged North Korea to cancel the launch, warning that firing the long-range rocket would violate UN resolutions and Pyongyang's promise to refrain from engaging in nuclear and missile activity.
North Korea say that the launch is a intended to improve the nation's faltering economy by providing detailed surveys of the countryside.
"Our country has the right and also the obligation to develop satellites and launching vehicles," Jang Myong Jin, general manager of the launch facility. "No matter what others say, we are doing this for peaceful purposes."
Read More