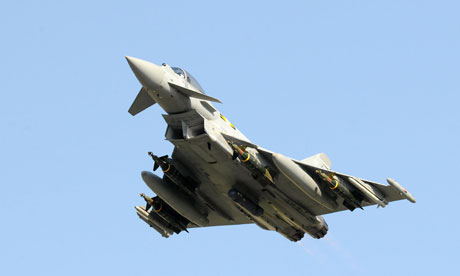 A loud bang heard across the Midlands was caused by two Typhoon jets responding to an emergency, the Ministry of Defence has said.
The aircraft were responding to an emergency signal coming from a small civilian helicopter, which could indicate it had been hijacked or 'gone rogue', said an MoD spokesman.
During the incident one of Royal Airforce Typhoon's emitted a sonic boom that shook houses in Coventry, Rugby and Leamington.
The MoD response was standard procedure and the emergency signal from the helicopter turned out to be a false alarm, the spokesman added.
Police and fire services in the West Midlands were inundated with phone calls about the noise shortly after 6pm from concerned members of the public in Bath, Swindon, Coventry, Rugby and Oxford.
Many people on Twitter and other social networking sites confirmed they had also heard the noise, some as far as Swindon and Oxfordshire.
Read More