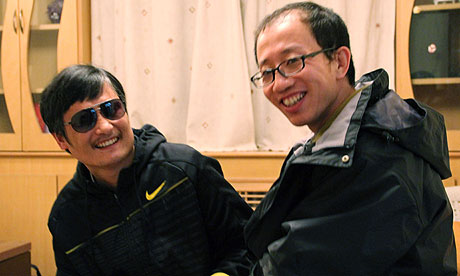 Blind campaigner evades close to 100 guards to escape from six-year detention but fears grow for family and supporters.
A blind Chinese rights activist who made a daring escape from extrajudicial detention was on Friday under the protection of the US embassy in Beijing, according to a friend, as concerns were growing about possible retribution against his family and supporters.
After more than six years of jail and house arrest, Chen Guangcheng was said to have fled under cover of darkness, evading eight checkpoints and close to 100 guards who have been watching his home in the Shandong province countryside.
A photograph released on Friday night shows him with a friend and fellow activist, Hu Jia, who said Chen was under US protection. "It is my understanding that Chen is in the safest place in China. That is the US embassy," said Hu.
If confirmed, the incident could overshadow a planned trip to Beijing next week by the US secretary of state, Hillary Clinton, and treasury secretary, Timothy Geithner.
It would be the second case this year of a high-profile figure seeking refuge at a US diplomatic office in China. In February, Chongqing police chief Wang Lijun fled to the US consulate in Chengdu claiming his life was threatened because of his investigation into the death of British businessman Neil Heywood.
Read More