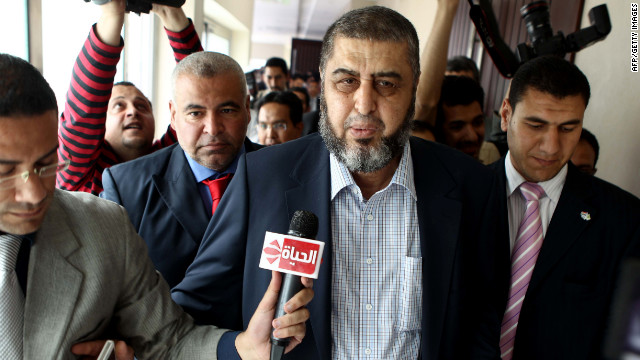 Cairo (CNN) -- Ten of the 23 nominees running for president in Egypt -- including Muslim Brotherhood candidate Khairat el-Shater and former Vice President Omar Suleiman -- have been disqualified and cannot run for the nation's top job, the head of Egypt's executive election committee said Saturday.
The disqualifications are due to "legal irregularities," and the 10 candidates have 48 hours to appeal to the committee, which in turn will respond in 24 hours, Hatem Bagato said.
"Omar Suleiman was banned because he did not collect the 30,000 endorsements from 15 different directorates in Egypt but obtained them from several cities only, which is not legal," Bagato explained.
Bagato added that both el-Shater, the Muslim Brotherhood's No. 1 choice, and Ayman Nour, the head of the Al Ghad party, were disqualified for issues surrounding their unresolved pardons for time in prison.
Alaa Ayad, a campaign spokesman for el-Shater, called the disqualification a "political decision" and said the party's lawyer will appeal it.
"This decision may cause tension on the streets," Ayad said.
Read More