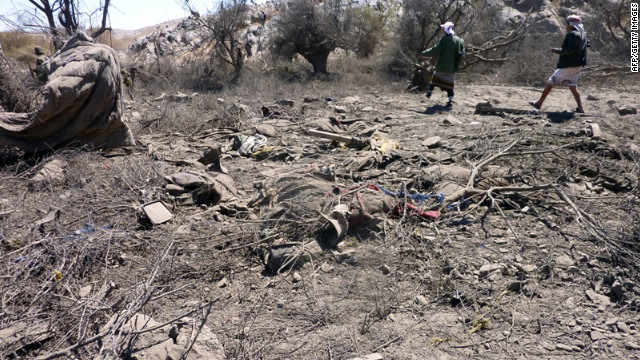 Sanaa, Yemen (CNN) -- U.S. airstrikes targeted militant hideouts and arms caches in separate attacks over three days in Yemen, killing at least 64 suspected al Qaeda insurgents before the strikes ended Sunday, senior Yemeni officials told CNN.
Officials at U.S. Central Command and the Defense Department contacted Sunday provided no information on the purported attacks.
U.S. officials rarely discuss the drone program, though privately they have said covert strikes using drones are legal and an effective tactic in the fight against extremists.
The latest strike involved at least five U.S. drones and took place in the Jabal Khanfar region of Jaar, located in southern Abyan province, two senior Yemeni security officials said. At least six suspected al Qaeda militants were killed, Yemeni officials said.
A member of the military committee -- Yemen's highest security authority -- confirmed that strike, and said the Yemeni government was given no advance warning of it.
Read More