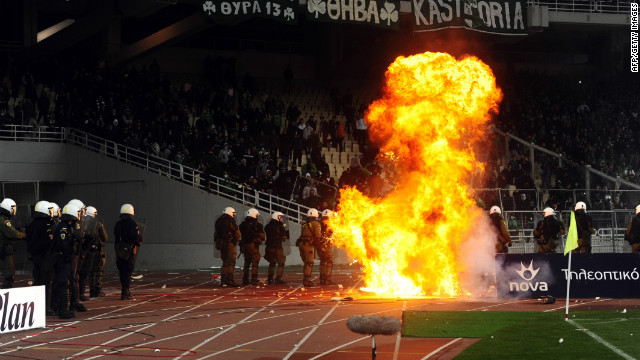 Athens, Greece (CNN) -- Athens' Olympic stadium suffered heavy damage during violent clashes between soccer fans and police, authorities said.
The clashes left 20 police wounded, two seriously, police said. Fifty-seven people were detained and another 23 arrested on charges of violence against police and possession of Molotov cocktails.
Police said they were provoked by "a large group" throwing sticks, stones, bits of metal, Molotov cocktails and flares.
The clashes began two hours before a Sunday night match between Greece's two main football clubs, Panathinaikos and Olympiakos, was due to begin.
"Before the match, individuals who had already gained entry made a sortie from their stands, breaking stadium doors, attacking police and allowing others to enter without security checks," a police statement said.
Read More