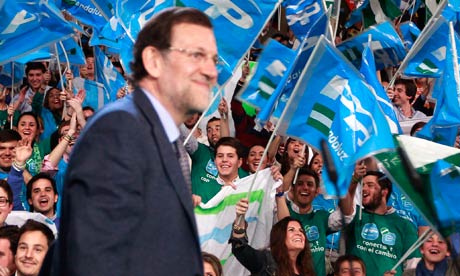 Mariano Rajoy expected to win Andalucia regional elections, then order further austerity measures.
Spain's prime minister, Mariano Rajoy, faces the toughest week of his three months in office as he is forced to announce up to €40bn (£33.45bn) in spending cuts and taxes in a budget on 30 March, the day after a general strike.
As Rajoy's conservative People's party looked set for victory in key regional elections in southern Andalucia on Sunday, other European leaders and the markets were signalling Spain as now being the biggest single threat to the stability of the eurozone.
A win in Andalucia would give Rajoy unprecedented control over troublesome regional governments whose inability to reduce deficits has helped to put Spain centre-stage in the eurozone crisis. Asturias, a much smaller northern region, was also voting.
Read More