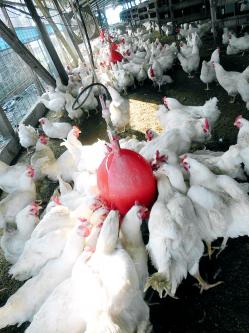 AVIAN FLU:Although the strain cannot be passed from human to human, it could endanger US$23.8 million of poultry exports if deemed 'highly pathogenic'
A total of 57,500 chickens have been culled in areas around Greater Tainan and Changhua County in Taiwan's first outbreak of the H5N2 avian influenza strain, the Council of Agriculture (COA) said yesterday.
The chicken farm in Changhua reported the disease on Dec. 27 last year, while cases at a farm in Greater Tainan were detected on Feb. 7, council officials said. The chickens in Greater Tainan were culled on Feb. 10, while the culling of the ones in Changhua was completed yesterday morning, the officials added.
The outbreak was under control and no chickens at nearby farms were found to be sick, added Wu Ming-pin (吳名彬), deputy director of Greater Tainan's Animal Health Inspection and Protection Office.
Read More