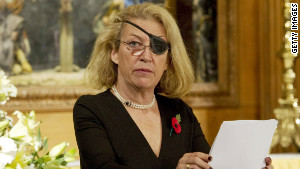 New York (CNN) -- The body of Marie Colvin, a veteran correspondent for The Sunday Times of London who was killed in a shelling attack in the Syrian city of Homs, will likely be buried inside Syria, her mother said Saturday.
Rosemarie Colvin said aid workers, who have been trying for days to remove her daughter's body from the war-ravaged country, tried again Saturday but ultimately determined that the situation was too dangerous.
"We were told yesterday that today was probably the last day," the elder Colvin said.
She added that she believes her daughter was deliberately targeted by Syrian government forces.
Read More