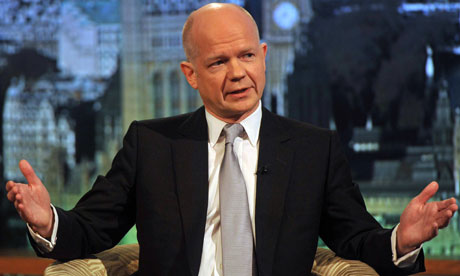 William Hague has warned Israel that military action against Iran would not be "a wise thing".
Amid rumours that the Israeli government is considering strikes against Iran within months, Hague insisted economic sanctions and negotiations had to be given a real chance to convince Tehran to abandon its nuclear ambitions.
In an interview on BBC1's Andrew Marr Show, the foreign secretary repeated his warning that a nuclear-armed Iran would result in another cold war in the Middle East.
"They would either be attacked and there would be a war, or there would be a cold war in which Iran for the long term would be subject to these very intense economic sanctions and they would find that other nations in their region developed nuclear weapons," he said.
Hague cautioned against military action, although he said it was not ruled out as an option. "I don't think a wise thing at this moment is for Israel to launch a military attack on Iran," he said. "I think Israel like everyone else in the world should be giving a real chance to the approach we have adopted on very serious economic sanctions and economic pressure, and the readiness to negotiate with Iran. That's what we need to make a success of."
Read More