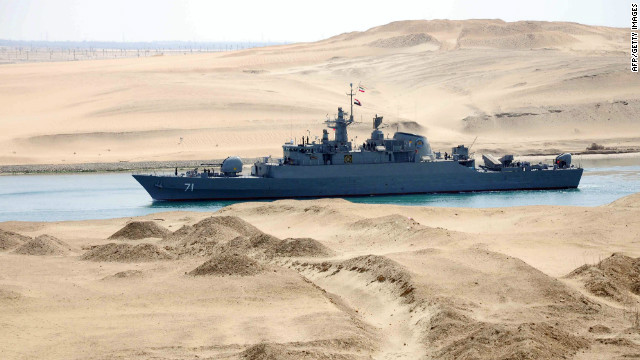 (CNN) -- Two Iranian warships sailed through Egypt's Suez Canal into the Mediterranean Sea, Iran's semi-official Mehr news agency reported Saturday, amid heightened tensions in the region.
The move represents only the second time such ships have crossed the Suez Canal since the Islamic republic's 1979 revolution.
The first time took place in February 2011, just days after Egypt's post-Hosni Mubarak government gave the green light to the passage -- putting Egypt's new military leaders in a prickly position with its Israeli neighbor.
"As the Navy affected the region with its presence in the Mediterranean Sea last year, the Navy's 18th fleet will in the best way carry the message of peace and friendship to regional countries, and display the might of the country and the sacred system of the Islamic Republic of Iran," said Rear Adm. Habibollah Sayyari, according to Mehr.
It was not clear from the report where the two vessels, a destroyer and a supply ship, were headed. However, another semi-official Iranian news agency, ISNA, said the ships were on their way to Syria.
Read More