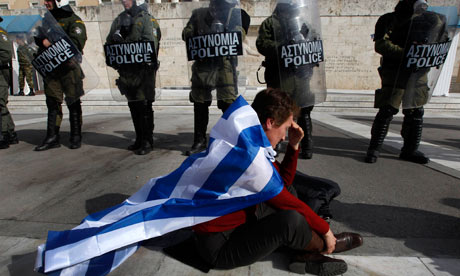 Despair has enveloped Greece. This weekend the bankrupt nation, for that is what it is, began negotiating the latest act of a drama that many fear will end in catastrophe – financially, socially and politically.
In an electric atmosphere, with thousands demonstrating outside parliament, MPs began debating the arduous terms of a €130bn (£110bn) rescue package that the interim prime minister, Lucas Papademos, insists is the only way left to avert economic collapse.
"A disorderly default," he said, referring to the 20 March deadline that Greece faces of repaying €14.5bn in maturing debt, "would plunge our country in a disastrous adventure. It would create conditions of uncontrolled economic chaos and social explosion."
With today's vote on the loan deal seen as a ballot on euro membership, political chiefs on both the left and right also weighed in, urging MPs to vote for the accord despite unpopular austerity measures that are likely to define the lives of Greeks for decades. "If we do not dare today, we will live a catastrophe," said the former prime minister and Socialist leader George Papandreou. "The recipe … isn't right or wrong; it's the only one available."
Read More