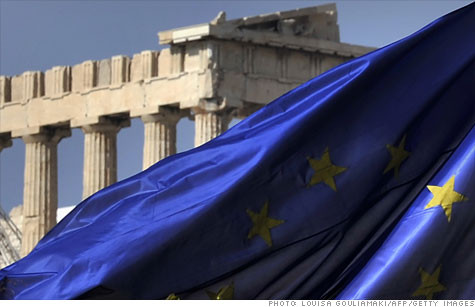 NEW YORK (CNNMoney) -- It's officially crunch time. European finance ministers need to agree to the terms of a second bailout to keep Greece from defaulting on an upcoming bond payment.
While it's been widely expected that the Eurogroup (the 17 eurozone finance ministers) will give their approval when they meet Monday, we've been here before.
As part of the deal, the Greek government is expected to be required to maintain an escrow account with enough cash to cover nine to twelve months worth of debt. If the account runs low, the government will be forced to reallocate funds.
Additionally Greece will have to take 24 additional steps before the end of February, mostly things the government has promised but hasn't done so far. Greece's government is also expected to announce further austerity cuts ahead of Monday's Eurogroup meeting.
The Greek Parliament already approved a deeply unpopular package of pay cuts, layoffs pension reforms and other measures to reduce spending.
Greek bailout decision postponed
Meanwhile, the European Central Bank, which holds an estimated €30 billion to €45 billion of Greek debt, is reportedly in the process of swapping its existing Greek debt for new bonds, with similar terms. Per its mandate, the ECB will not take any losses from a Greek debt restructuring.
Read More