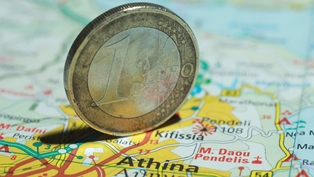 The European Central Bank said today it would temporarily no longer accept Greek sovereign bonds as collateral for loans to banks after Greece was declared in "selective default" by a rating agency.
"The governing council of the European Central Bank has decided to temporarily suspend the eligibility of marketable debt instruments issued or fully guaranteed by the Hellenic Republic for use as collateral in eurosystem monetary policy operations," the ECB said in a statement.
"This decision takes into account the rating of the Hellenic Republic as a result of the launch of the private sector involvement offer," the bank explained.
Ratings firm Standard & Poor's yesterday declared Greece in "selective default" after banks agreed to write off more than half of their Greek debt holdings in a second EU bail-out of the country.
Read More