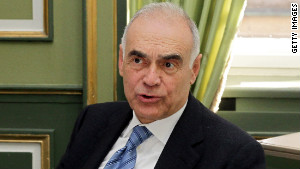 (CNN) -- The trial of sixteen American aid workers before a Cairo court was adjourned Sunday, the judge said, after the accused failed to appear in court.
The aid workers are charged with fraud in Egypt. U.S. Secretary of State Hillary Clinton said intense discussions are under way in the case.
The Americans are among 43 people accused in a crackdown on pro-democracy, non-government groups, which Egyptian officials say is part of a pattern of foreign interference that is stoking unrest.
Some of the non-American defendants did appear in court. The trial is scheduled to resume April 26.
Egypt's democracy is fragile in the wake of the revolution that ousted former President Hosni Mubarak, and the case has shaken its relations with the United States.
The aid workers are charged with operating in Egypt without being officially registered and receiving foreign funding.
"We are having intense talks at the highest levels of the Egyptian government because, obviously, we would like to see this resolved," Clinton said during an interview in Morocco.
Clinton declined to discuss the details of the negotiations or whether the U.S. would surrender the Americans for trial.
Read More