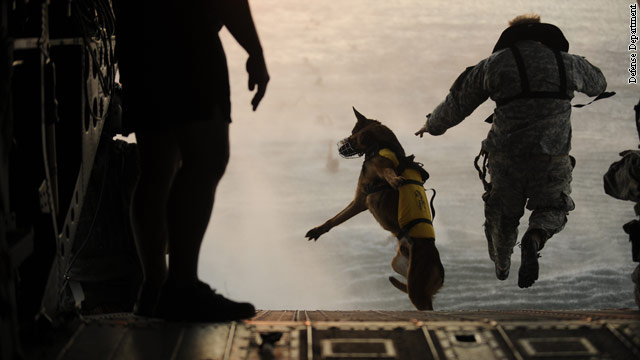 When an insurgent rocket attack badly injured Cpl. Dustin Lee while he was on patrol in Iraq, his shrapnel-impaled partner, Lex, picked himself up to lie over Lee - an effort to protect him.
"He knew Dustin was injured," said Lee's mom, Rachel. Lex was his bomb-sniffing dog.
Lee didn't survive his injuries, but Lex did - and became a part of the Lee family when Rachel adopted him.
"When Dustin was killed, one of the first things I asked about was Lex, because of their camaraderie. They depended on each other"
Lex, a German shepherd, served in the Marines as a military working dog.

There are about 2,700 dogs serving worldwide, according to the Defense Department. Roughly 600 of these dogs are deployed in designated war zones overseas, including Afghanistan, areas of Africa and Kuwait.
These "war dogs" are used on patrols, in drug and explosives detection, and on specialized missions, like the Navy SEAL raid that took down Osama bin Laden last year. Read More