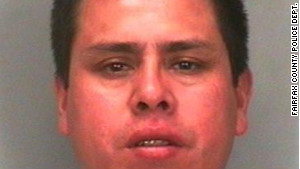 A man suspected in a series of buttock slashings in Fairfax, Virginia, has been captured in Peru, authorities said.
Johnny D. Guillen, known as the "Corta Nalgas" -- or "butt cutter" -- was captured Friday in Lima, according to Jair Quedas, system operator for Interpol Peru.
Authorities in the United States were looking for Guillen for allegedly cutting the buttocks of 13 young women, according to America Noticias, Peruvian local television.
Fairfax County Police in Virginia posted on its website that the man -- whom it identifies as Johnny D. Guillen Pimentel -- is suspected in a retail store assault that took place last year.
County police set up a task force to try to find a serial assailant responsible for several attacks that took place between February 2011 and July 2011.
"In each case, the suspect distracts his victim before cutting them. The victims have all been teenaged women or in their early 20s," Fairfax County Police said in a statement last year.
Read More