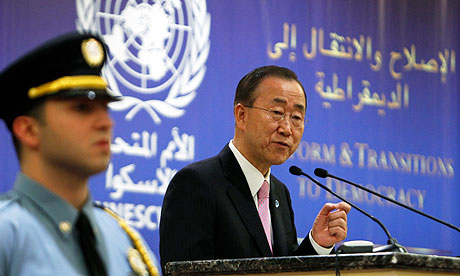 Damascus extends deal after criticism by Ban Ki-moon and Amr Mousa, as west again rules out military intervention
.
President Bashar al-Assad has offered an amnesty to citizens who have taken up arms against his rule in a 10-month revolt that has dragged the country to the point of outright war. The offer is the second by the embattled leader since a reformist uprising erupted in March last year.
However, it is the first made since forces loyal to Assad lost control of parts of Syria's towns and cities. The first amnesty last May did not lead to a release of detainees and was roundly condemned as a bid to deflect attention as the regime's iron-clad grip on Syria began to slip.
Opposition groups did not immendiately react to theamnesty pledge on Sunday, which is said to include defectors and armed demonstrators. Instead, the increasingly isolated Assad was again condemned by the international community, with both the United Nations chief and a former Arab League leader saying time was running out for the totalitarian leader.
"Today, I say again to President Assad of Syria: stop the violence. Stop killing your people. The path of repression is a dead end," said UN secretary general Ban Ki-moon at an Arab democracy conference in Beirut. "The winds of change will not cease to blow. The flame ignited in Tunisia will not be dimmed."
Read More