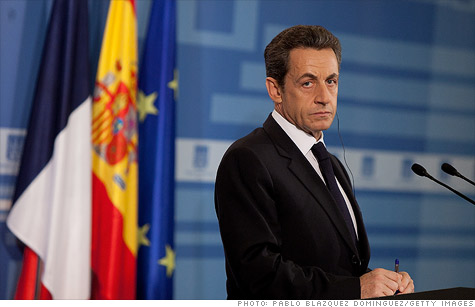 Standard & Poor's axe took another swing at Europe Monday, this time stripping Europe's bailout fund of its AAA status.
The move was largely expected after S&P downgraded nine euro area governments last week, including France and Austria, two big backers of the European Financial Stability Facility. Like France and Austria, the EFSF is now rated AA+, according to S&P.
Last month, ratings agency had put nearly the entire European Union and the EFSF on notice for a downgrade. At the time, S&P had said that the EFSF's rating would likely fall in line with the lowest cut.
The stability fund, or EFSF, is considered to be the "firewall" protecting the debt crisis from spreading across the eurozone. France's downgrade to AA+ has an especially big impact on the rating of the EFSF because France is the second-largest backer of the fund, after Germany.
Experts have warned that a downgrade could lead investors to favor bonds issued by other AAA-rated nations at the expense of the stability fund. That would make it harder for the fund to raise money it needs to support countries like Portugal and Ireland, as well as a second bailout for Greece.
more